We have been working for you for over 12 years...
Starting the assortment with 8 types of voltage stabilizers, we now offer you voltage stabilizers and variacs of any power. A number of technical features make our product unique and versatile for every home, office, factory and workshop. Lightning protection, wide operating range, smart forced ventilation, frost resistance are just some of our offerings. Choose any model - you will like it!
Our Advantages
Fast Delivery Worldwide
Three Years Warranty
Factory Production
Skilled Staff
We always sell only original, our own products. There is always an agreement between our companies. ElectroSheriff LLC-FZ has the full right to sell SUNTEK products.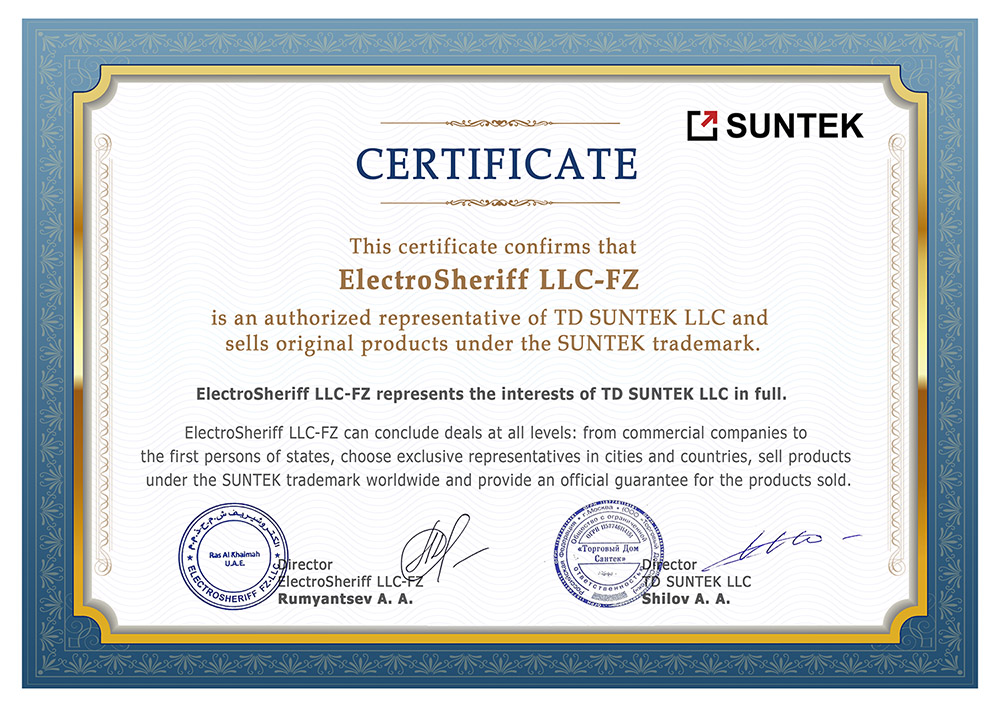 OUR VISION AND MISSION
Our goal is to ensure that people everywhere have access to reliable and consistent power. We understand that power fluctuations can be frustrating and even damaging, which is why we have created a range of stabilizers to meet the needs of all types of customers. From homeowners to businesses, we offer solutions that are affordable and effective.
With SUNTEK equipment, it's possible to create an environment where people feel safe and comfortable. By becoming an assistant in large projects, we can help bring about positive changes in the world and make a real difference. Whether it's working on renewable energy initiatives or improving infrastructure, SUNTEK equipment can help you get the job done. Additionally, by creating favorable conditions for business development, we can help your partners succeed and thrive. With SUNTEK by your side, the possibilities are endless.
 In order to expand our reach and better serve our customers, we are committed to opening representative offices in all major countries around the globe. This will allow us to better understand the unique needs of each market and tailor our products and services accordingly. We believe that by working closely with local communities, we can make a real difference in people's lives and help to create a more sustainable future. 
OUR HISTORY
A successful start allowed us to expand our product range by 2013. We began to produce autotransformers. These were single-phase and three-phase models, both very powerful and miniature. A successful combination of technical parameters and excellent marketing allowed us to take the first plac in sales of autotransformers by 2016! All large state corporations work with us!
In 2016, we also decided to maximize the range of voltage stabilizers and produce models of all types (relay, electromechanical, thyristor and triac), of any power and complexity. This step was not easy. Reliable components had to search around the world, because the quality requires careful selection of parts. But the problem has been solved and, thus, a very important height has been achieved - we can offer the client a full range of voltage stabilizers. Now you do not need products from other manufacturers to provide the buyer with a good choice of voltage stabilizers. SUNTEK offers all options - both expensive stabilizers and affordable ones, both for household use (from 500 VA), and industrial (up to 1 MW), both for single-phase and three-phase networks, etc. Plus high precision stabilizers (up to 0.5%) for laboratories and research centers.
2017 - the development of a device that allows you to protect all equipment in the house in case of problems with a neutral wire. The device constantly analyzes the state of the network and as soon as voltage appears on the neutral wire, it stops power supply. Such dangerous phenomena as thunderstorms, overlapping of wires on the pole, overloading at substations, etc., are no longer terrible. The issue is resolved! We have integrated this device into some of our models of stabilizers, and also synchronized it with the operating range of voltage stabilizers. Now your home is 100% protected. And this protection against SUNTEK!
2018 The problem of protecting gas boilers from voltage surges is acute worldwide. We keep up with the times and develop SUNTEK high-precision thyristor type voltage regulators specifically for boilers. The series consists of only two models - 500 and 1000 VA, but is the most popular. The use of modern technologies has made it possible to achieve high efficiency and significantly reduce the price. Now stabilizers are ten times cheaper than the boiler itself! Who will refuse such protection? No one!
2019 This is the year when we start promoting our products around the world. We offer cooperation. Welcome, we will be glad to see you among our partners.
2022. We open our first international representative office and wholesale warehouse in the UAE. Now we can offer you goods on a self-delivery basis and are ready to ship to any city in the world. Cost minimization allows us to offer our goods at the best prices.
The history of our company is just beginning. Let's cooperate. We are open to any negotiations. If you have a desire to sell products or you have interesting technical solutions - write, call. We are open to dialogue.